Continuing the series about new features in Cyberduck 3, which started with the Amazon S3 support announcement, I want to highlight a change to the user interface: Since Cyberduck has been available in 2003, it featured a drawer – the new user interface widget introduced with OS X 10.0 – to display the bookmarks. I have decided to change this in Cyberduck 3 and replace it with a 'inline' bookmark window as e.g. in Safari.
It features the following improvments:
Status. Shows a green bullet if the browser is connected to the remote host.
Search. The filter field you are used to in the browser allows to search within the bookmarks, too. It filters the bookmarks with the search string matching either the nickname or hostname.
History & Bonjour. A navigation bar at the top allows to select recent connections and to connect to remote hosts discovered via Bonjour/Zeroconf.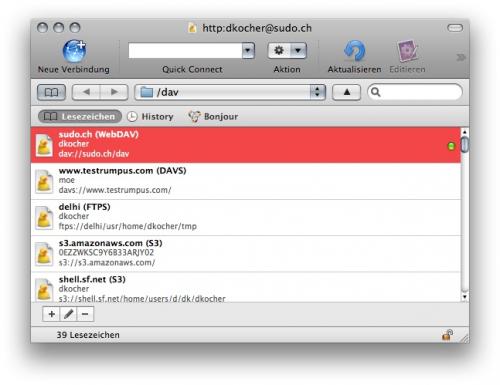 Cyberduck 3.0 is expected to be released later this month. The current nightly build (use with caution) is available for testing.